Please note we are not on GPS unless you can put:
Satellite coordinate: +43° 14' 51.972'' - +12° 31' 26.147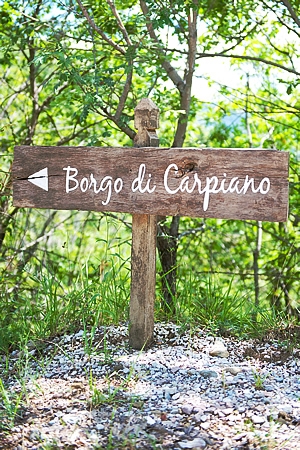 From Gubbio – take SS 298 direction Perugia
After about ten Km. you will find on your right a blue sign with S. Cristina written on it. Take the small road on your right soon after the sign. At the beginning of the road you will also see a small blue arrow saying Carpiano. This is a country road and you will need to drive for about 6 km. until you find on your left two houses one yellow and one cut stone with a small dirt road in between with a wooden sign Borgo di Carpiano.
From Roma – A1 exit Orte direction Perugia taking the E45
Has you approach Perugia, immediately after you see the Balanzano exit, follow the signs to Cesena, Not Perugia.
Exit at ponte pattoli.
From Firenze – A1 exit Valdichiana direction Perugia
After you see Piscille exit keep following signs for E 45 Cesena and exit at ponte pattoli.
From Cesena – E45 uscita Ponte Pattoli
Be careful not to imbocare the output Resina! Continue to the exit Ponte Pattoli.
---
From exit Ponte Pattoli follow signs to S.Cristina and Casa del Diavolo
An center of village turn right and then immediately left following signs to Santa Cristina and Civitella Benazzone.
After about 2km you will come to a split in the road, follow your right heading towards Morleschio & Santa Cristina.
Follow this winding road for about 10km, go past a restaurant on your right called "La Dolce Vita".
Carry straight on for a further 5 km until you come to a cluster of houses on the right hand side. This cluster of houses is located just couple of turns after a low long cement wall with an electricity cabin.
Take the right turn between the buildings and drive down the winding track following the signs Borgo di Carpiano.
Follow this road for about a 2 km and don't get nervous especially if you are from a country with large roads!
— You are about to arrive and you will get used to the road!